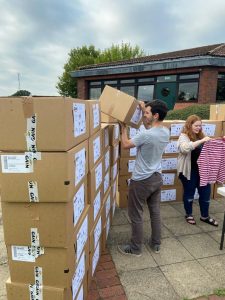 Thanks so much for visiting my giving page!
I've been working with Agapé since I graduated in 2013, first in France then back home in Northern Ireland. For the past eight years I've been working with students but now I am moving to a new field and working with Global Aid Network! GAiN is a humanitarian aid organisation seeking to reveal hope and restore life across the world – you can find out more about what GAiN do at globalaidnetwork.org.uk. I will be stepping into the role of mobilisation manager – walking alongside our volunteers here in the UK as we seek to give of our time, finances and talent to those who are in need.
To do this work full-time, I have the joy of having people partnering with me through prayer, encouragement and giving. Thank you for considering being a part of my team! If you'd like to sign up to receive my prayer emails you can click on the link or contact me with your email address. If you'd like to give you can do so below, or if you'd like you can download this giving form and send it in to the office.