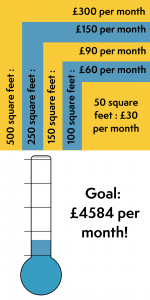 More space for a strong base – together we can reveal hope and restore lives
We envision the GAiN Involvement Centre as the hub where people are engaged, involved and growing in their understanding of poverty, crisis situations and injustices around the world, and will be able to invite their networks and communities to do the same.
It has been more than 6 months since we launched our appeal for a GAiN UK Involvement Centre. The response has enabled us to take the first step in acquiring our Involvement Centre allowing us to engage more people in the local community in a hands-on response and support even more people in poverty and crisis.
Although smaller than planned, we are extremely grateful, for it has made a real difference, having a dry and secure place where donations are sorted and packed, ready to be sent to those in who are in need.
As we continue to grow, we need regular commitments to our Involvement Centre so we can carry on responding with more speed and agility to crises that unfold across the world.
We are still dreaming of a bigger GAiN Involvement Centre of 5,000 square feet that could potentially bring tangible help to around 300,000 people, which is ten times more than what we have done in the last two years. To break it down to a more manageable size, £30 a month would fund 50 square feet, which could help around 3,000 people.
Would you partner with us and help continue funding our Involvement Centre? So that together, we can reveal hope and restore more lives?