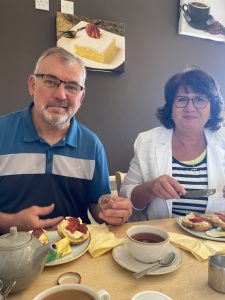 When God called us into full-time ministry He showed me a picture of train tracts and that we will be travelling through the mission field in a train. As we travel there will be stops(stations) along the way and God will show us where and if we must get off this train. He will also show us if we need to get back on the train to our next destination. With us on this train will be other people who will take this journey with us. These people are you, our loyal prayer and financial partners. Thank you for taking this journey with us!!!
Since we started our journey in the mission field 17 years ago we had 5 stops at different stations.
We worked with students, Led the Macedonian Project, did Operations in South Africa. After this God called us into Operations in Agape UK and lastly into the Global Life Ministry which consisted of 3 different ministries namely Christian Embassy, Agape Refugee Life and Global Aid network(GAiN UK). Now God told us that we must move again to our next station. Since May 2020 I have been have asked to lead GAiN UK  forward. I am looking forward to this new challenge. Thank you for joining me on this journey with your prayers and financial support. We really appreciate you…
GAiN UK is the humanitarian partner of Agapé UK. We involve volunteers in a hands-on response to poverty and crisis, by connecting people, collecting resources and creating spaces for personal reflections on how our response to poverty is lived out with integrity in our lives.
For further information about the work of GAiN UK, please click here.