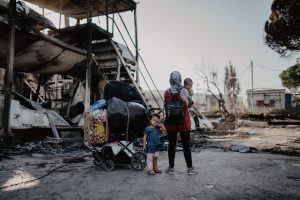 "We can now say that Camp Moria no longer exists, no matter how bizarre that may sound." 
The fires started late on Tuesday evening. Tension in the camp had already risen after the news of the first coronavirus infection on Wednesday 2 September, by this week 35 people had tested positive. After the camp had been in lockdown for months, and people were only allowed out of the camp under strict conditions, the camp was now completely quarantined, and everyone had to stay inside. There are reports that a number of refugees started to oppose the quarantine and this escalated overnight from Tuesday to Wednesday. Due to strong winds, the fire had free rein and a number of refugees made it difficult for the fire brigade, which prevented them from responding quickly and adequately. Eventually, the entire central part of the camp was on fire, and residents had to flee outside. During the day on Wednesday the extent of the damage became clear, an enormous amount of destruction, everything in ashes. Only in the olive grove, the fields around the camp, were tents untouched. But on Wednesday evening, reports came in that this part was now also on fire, and eventually the last people had to flee.
Some 13,000 people have become homeless and are stuck in the streets and fields around Moria. They are guarded by the police, who have blocked the roads to the capital Mytilini and other villages due to the risk of violence and the spread of coronavirus. A number of vulnerable groups have been housed elsewhere and the UNHCR is at work to install new tents. A food distribution point has been placed in the Lidl parking lot where food is distributed. The NGOs present are working hard to provide the people with the basic necessities of life, but the situation remains desperate and chaotic. The Greek government has declared a four-month state of emergency for Lesbos.
GAiN UK, through our worldwide network, is in close contact with our local partners to find out how best we can help. We are urgently putting together containers to send to Lesbos, filled with sleeping bags, blankets, nappies, tents, clothing and hygiene equipment. We will monitor the needs on a daily basis and adapt our help accordingly. The first truck will depart from GAiN Switzerland next week.
Many of you reading this have been faithful supporters of our ongoing work with the refugees in Camp Moria. Thank you. Now that the situation has deteriorated unimaginably further, please can we ask you to join with us to continue to offer hope to the refugees on Lesbos in this time of crisis by providing basic necessities.
You can donate financially below or contact info@globalaidnetwork.org.uk to donate tents, sleeping bags, hygiene products, nappies, blankets, clothing. Thank you.
Photos: Salome Wiedmer