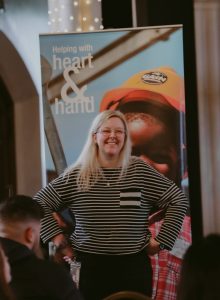 Thanks so much for visiting my giving page!
Sharing what God is doing and how people can join in The Great Commission is at the heart of my work and I'm currently serving in Comms across our national UK Student Campus Ministry and Global Aid Network (GAiN), Agape's humanitarian partner.
In Student Comms, I seek to equip, encourage and challenge Christian students across the UK as they invest in everyday mission with the people they live, study and do life with while at university. Utilising social media as a force for good and for Jesus has been a joy and I love seeing students empowered and mobilised to share Jesus with those closest to them.
GAiN is a humanitarian aid organisation seeking to reveal hope and restore life, giving people opportunities to tangibly respond to poverty and crisis situations across the world. My role in communications has been key in growing our presence in the UK, sharing God's heart for those in need, and building capacity with new and ongoing projects. I'm also actively involved in our projects 'in country' and in 2022 have been part of teams developing partner relationships and serving practically in Serbia and Romania.
Thanks for checking out my page and considering joining my team! It's a joy to love and serve people well and it's only possible through your support.
You can sign up to get my email updates here.
I also love to share my work in person or online and you can always reach me on caitlinlyttle@agape.org.uk
Click the links below to see my work on GAiN's Facebook page or the National Student Instagram page