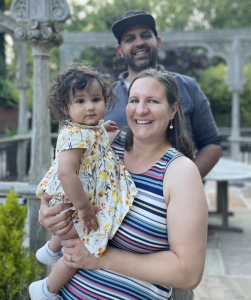 Working with Agapé UK is not something you do alone. It requires the backing of a team of people who are committed to the work that I am involved in. I am so grateful for each and every one of my financial and prayer partners who joins this vital team of people – without whom I couldn't continue this work.
I have been working with GAiN since 2015 when we started as the UK branch of Agapé's humanitarian partner. During that time we have been able to respond to poverty and crisis in Iraq, Syria, Haiti, Romania and Greece. My role now is serving in the area of operations to support the day to day running for the activities of GAiN UK. Working in partnership with Agapé UK we look for ways to involve students, professionals and families in responding to the needs of people living in poverty with both our hearts and hands.
Our team is currently focusing our efforts on helping to bring essential relief to refugees in places across Europe including Greece and Bosnia Herzegovina.  Through our network of collection points we are able to involve many people across the UK in a hands on response to poverty and crisis. We are also able to send teams of volunteers to provide practical help and encouragement to our long-term partners on the ground.
Please visit globalaidnetwork.org.uk to find out the latest.