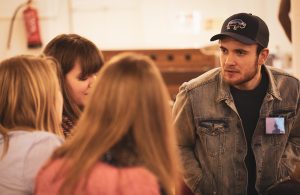 We are Agapé UK Students!
Agapé UK has student teams on campuses across the country. Our staff are passionate about engaging students – the next generation of our country's leaders and influencers – in exploring the bigger questions of life, faith, God, etc. We also offer people the chance to explore what Jesus has to say about these topics. As we ourselves discover more of Jesus each day, we are convinced that the transformation we experience through this is available to every student in the UK.
Our latest news…
Community and desserts!
Laura, an international student from East Asia currently studying in London, only made the decision to start following Jesus on 6 February this year despite having never met any Christians during her time in London. A few weeks ago, she was scrolling through Instagram when she suddenly came across the Agapé UK Students London team Instagram account and reached out to us to ask if, and how, she might be able to get involved…

Olivia and Katy's online lockdown journey
Olivia used to find talking about her faith with others challenging. She explained, "When I've been to talks and seminars focussed on evangelism in the past, I often felt pretty daunted and overwhelmed at the Great Commission…"
What are students thinking about as they emerge from lockdown?
UK students have spent a year-and-a-half in lockdown. During this time, they've had to endure online lessons, having to work locked down from their halls of residence, or even having to move back and study from their parents' house. That's actually quite a long time in university life. To put it another way: two-thirds of the current UK undergraduate population have experienced six months or less of normal university life…
"I've got some great news for you!"
Ginika's text finished tantalisingly: "I've got some great news for you!" and agonisingly, Miriam Potts (an Agapé UK staff member in Newcastle) had to wait until she got to meet up with Ginika later that week to finally hear her story.
Want to be a part of the action?
Becoming an Agapé UK Students volunteer
You can be a part of what Agapé UK Students is doing too! If you want to join the journey of discovering Jesus together with students, you can apply to volunteer with an Agapé UK team on a campus near you. For more information, e-mail us at hr@agape.org.uk, specifying in which city you live and that you are interested in becoming a volunteer.

Becoming a prayer partner
If you want to be involved in our work, but perhaps don't have the time to commit to volunteering, don't fret! There are other ways you can support us too. If you would like to pray for our teams, you can sign up to our newsletter by following this link. Once every few months, we'll send you news updates and stories from our teams around the country, as well as information about Agapé UK resources that you might find relevant. We'll also include some things that you can be praying for too.

Becoming a financial partner
You can also support us by giving towards our work financially, through one-off gifts or by supporting us regularly by setting up a standing order. You can give towards national projects and initiatives by filling out and submitting the giving form below on this page, or you can support specific members of Agapé UK staff by visiting their individual pages, which can be found by following this link.
You can also see more of what we're up to by checking out our social media pages: